POP3DA - POP3 Direct Access
Ihre Sprache: Diese Seite in deutsch
Contents: Description | Usage | System Requirements | Download and Installation | License | Contact | Changes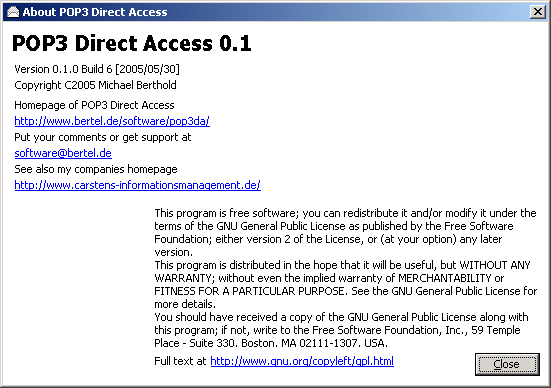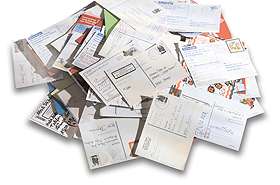 Description
POP3 Direct Access is a POP3 email client which doesn't download the whole email contents but only the headers (i.e. sender, addressee, subject, etc.) of emails inside POP3 email accounts. The graphical user interface gives a fast overview of the emails in the inbox. It's possible to delete email from the mailserver without downloading them. Of course it's also possible to view the email's contents and save attachments. Access data of multiple POP3 accounts can be saved.
Usage
Becaus of the intuitive graphical user interface of the application it should be easy to use. You will get the most out of POP3DA when you have to delete unwanted emails from a POP3 account, e.g. when the account is flooded with virus mails or spam. Because the emails will not be downloaded completely you save a lot of time and viruses or spam with automatic feedback can't do any harm. See the help document if you want to learn more about the usage of POP3DA.
System Requirements
Microsoft Windows 98/ME/NT4/2000/XP/2003
Download and Installation
Download the ZIP archive and unpack it into any folder on your hard disk. There ist no installation necessary. You can either download a upx compressed version (340 kB) or an uncompressed version (879 kB). If you experience any problems using the compressed version please use the uncompressed one.
Compressed EXE: POP3DAc.zip (332 kB, MD5:

bce07e4dcb0480b8efe1e1d7f528055a

)
Uncompressed EXE: POP3DA.zip (435 kB, MD5:

601be19b085a4e644065fbaace6fe9cc

)
According to the license you can also download the souce code of the application. Please, be aware that for this application an is used. Therefore a download of the unit ComCtrls is also provided.
Borland Delphi 6 project with source code: POP3DAsrc.zip (127 kB, MD5:

a4a7690604e4c9a5bd6a7bd230326c73

)
Borland Delphi 6 akltered unit ComCtrls: ComCtrls.zip (121 kB, MD5:

fa865e1f54d5d48ce0943d977c0b28a3

)
Tip: For checking the downloaded file against the MD5 hash you may use MD5 Fingerabdruck by Carstens & Co.
License
Copyright ©2005 Michael Berthold
This program is free software; you can redistribute it and/or modify it under the terms of the GNU General Public License as published by the Free Software Foundation; either version 2 of the License, or (at your option) any later version.
This program is distributed in the hope that it will be useful, but WITHOUT ANY WARRANTY; without even the implied warranty of MERCHANTABILITY or FITNESS FOR A PARTICULAR PURPOSE. See the GNU General Public License for more details.
You should have received a copy of the GNU General Public License along with this program; if not, write to the Free Software Foundation, Inc., 59 Temple Place - Suite 330, Boston, MA 02111-1307, USA.
Original (engl.) license text.
Contact
If you have problems with the application, errors to announce, suggestions or you simply want to express your thanks, you will reack me as follows:
Michael Berthold
Doehlener Strasse 34
01159 Dresden
Germany
E-Mail: software@bertel.de
WWW: http://www.bertel.de/software/pop3da/
Changes
Version 0.1.0.6 (2005/05/30): Release.
Last change of page 2005/05/30, Copyright ©2005 Michael Berthold